No. 63 Sky Harbour Class
Date:
September 1942
Associated Place:
Sky Harbour; Goderich, Ontario; No. 12 Elementary Flying Training School
Dimensions:
8 x 10 in.
Item #:
A992.0003.037k
Black and white image of class 63 of No. 12 Elementary Flying Training School. There are four rows of men in uniform. The back two rows are standing, the next row is sitting, and the front row is kneeling, outside on a runway with an airplane and a building visible in the background. "No. 12 EFTS - No. 63" appears near the bottom of the picture. There is a row of six men in the middle of the group wearing darker uniforms.
Back Row: Kubibki, Cameron, McLeod, D., McCausland, Miller, Berry, McPherson, Houison, Fearnley, Patus, Manninen, MacLeod, Walkom.
Third Row: Hall, Keegan, Murray, Louis, Sorg, Clifford, Saxon, Linkert, R., Nicholle, Smith, Drysdale, Cooper, Todd, Fisher, Stewart.
Second Row: Barnie, Hamilton-Jones, Mielke, Edge, Herring, Blake, Dewar, Knox, Wright, Black.
Front Row: Begrie, Venhola, Scott, Hoblitzell, Robar, Taero, Haus, Linket, M., Hostein, Maynard.
There are 10 black and white photographs with different exposures (labelled a - j) and 2 negatives (labelled k and l). The photographs and negative were in a brown envelope with "Class No. 63 Huron County Flying Training School Scholl 12 Proof 1 order 13 order 13" written on it in pencil.
Item Type: Negative, Film
Creator:
Henderson, J. Gordon – Photographer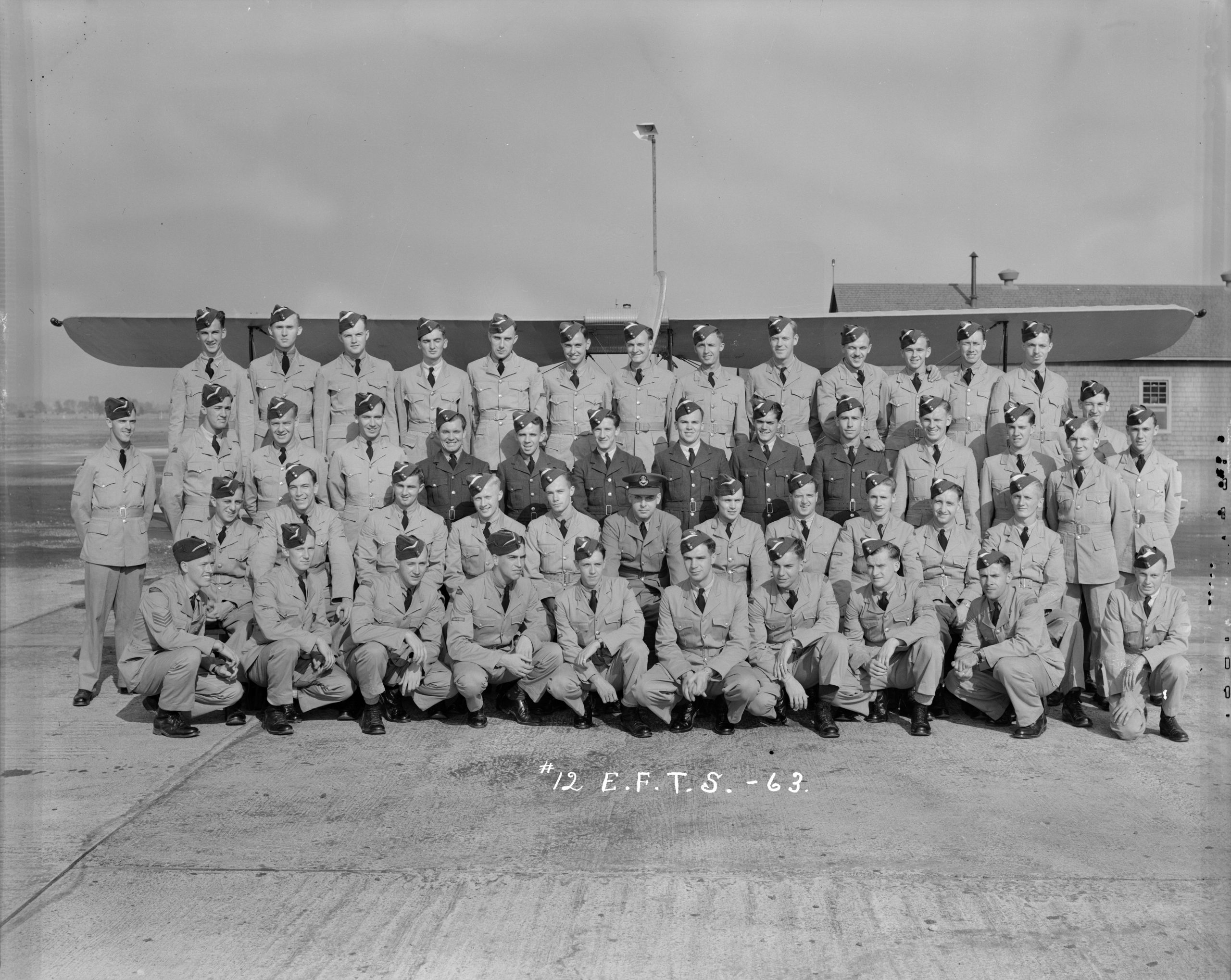 More Photos of No. 63 Sky Harbour Class